Connected with Mutianyu, this section of Wall by a reservoir is a hikers' favorite, as it has never been restored.

During summer, the whole area would be colored by yellow flowers and in autumn, the ground would be surrounded by yellow leaves, hence the name Huanghuacheng Great Wall (Yellow Flower Great Wall). This is a beautifully preserved section of the Wall favoured by nature lovers all year round. This section of Wall are still retains its original appearance since its construction in Ming Dynasty. But the climb isn't steep until you get higher up. And in some parts the walk is very pleasant.

There is a lake and a reservoir near the wall. The reservoir is called Huanghuacheng Reservoir. The lake is called Jintang lake. The water of the lake is cold and clear for all year round due to the numerous springs. The Huanghuacheng wall is divided by lakes and parts of Huanghuacheng Great Wall were damaged and fell into Jintang Lake after being bombed during the Anti-Japanese war a century ago. It makes this section of wall a very unique characteristic, distinguishing appearance from other sections of the Great Wall. The whole section of wall has 6 forts, 6 passes, 12 beacon-towers, and 32 guard towers. Of all the forts, Yaoziyu Fort is the best preserved.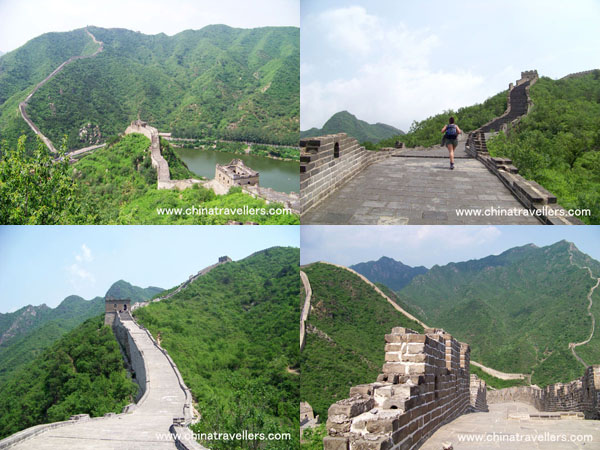 There is a story behind the building of Huanghuacheng Great Wall. Its construction began in 1575, during the Ming Dynasty and General Cai Kai was in charge of the entire works. It was said that it took many years to finish the construction. When General Cai Kai went to the capital and reported to the emperor his successful task, he was put to death at once! Some jealous ministers had told Emperor Wanli at that time that the General Cai Kai had spent too much money and the construction of the wall was poor. The emperor was so unhappy with these false reports, he ordered Cai's immediate execution. Later the emperor sent a trusted aid to check Cai's Wall. The aid went back and reported to the emperor that Huanghuaheng Great Wall was solid with the finest workmanship. Sorry for his hasty in putting the death to Cai, Wanli sent people to build a tomb and memorial stele in memory of the loyal general.
The Emperor Wanli also wrote the two characters "Jin Tang", meaning "solid and firm", carved on the face of a huge rock below the wall, showing the wall was firm and solid. So the wall is sometimes called Jintang Great Wall.
Hiking and Camping on Huanghuacheng Yellow Flower Great Wall:

One-day Huanghuacheng Yellow Flower Great Wall Hiking